Member Event
Ice Harvest Festival at Hanford Mills Museum
Saturday, February 7, 2015
10:00 to 16:00
51 County Route 12, East Meredith, NY 13757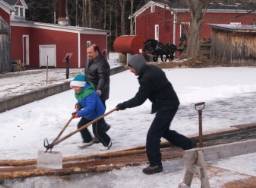 Festival features interactive ice harvesting on the Mill Pond, ice sculpting, ice fishing and blacksmithing demos, children's activities, horse-drawn sleigh rides, bonfires, and a hot soup buffet.
Local farm vendors include Byebrook Farm (Gouda Cheese) and Promisedland Farm (handknit hats and mittens).
Hanford Mills Museum is located at 51 County Hwy 12, at the intersection of Delaware County Routes 10 & 12 in East Meredith, NY. Children 12 and under admitted free. Adults & teens, $9; seniors, $7. Museum members free.